Reset workshop and gig at Make Noise with Benji B and Ossie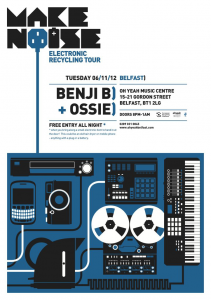 Electronic Recycling Tour
The Make Noise tour hits Belfast on 6th November 2012!
FEATURING >>>
BENJI B
OSSIE
BRIAN GREENE
+ RESET NOISE IMPROV (LIVE)
Free entry all night when you bring along a small electronic item to hand in at the door! This could be an old hairdryer or mobile phone – anything with a plug or battery.
Doors 8pm – 1am
Venue: Oh Yeah Music Centre
www.ohyeahbelfast.com
We're teaming up with Radio 1's Benji B to bring the UK a club tour with a difference. Stopping off in London, Glasgow, Belfast, Leeds and Bristol, MAKE NOISE will showcase some of this country's finest talent in the best clubs for a very worthwhile cause.
"I'm looking forward to doing some fun club nights around the UK on this tour with Make Noise – aimed at raising the awareness of recycling electrical equipment – not something most people ever think about, and not something I had really considered myself until now. It will be involving credible producers from around the country and also creating free club nights for the local communities." – Benji B
That's right, MAKE NOISE is a free initiative and therefore we expect no-one to pay for entry to any of the tour dates, instead we urge fans to each bring along an unwanted electrical item and use that as their currency. This could be a broken hairdryer, a drowned phone, busted iPod or even a couple of old batteries – anything that's electrical – and they will get access!
Incorporating recycling in every aspect of the project, MAKE NOISE will partner with local recording studios in every city featured on the tour, and for each item of old electronics that's handed in on the door, ERP will donate £5 to the studios to go towards buying new equipment. It's exactly what recycling is about, turning old, unwanted and sometimes broken goods into something new, more powerful and ultimately more useful.
About European Recycling Platform (ERP) www.erp-recycling.co.uk
ERP is one of the UK's leading waste electrical and electronic equipment (WEEE) and batteries recycling schemes. Producers of electronic goods and batteries work with registered recycling schemes, such as ERP, to collect and treat WEEE and batteries on their behalf. ERP members include Electrolux, Hewlett Packard, Microsoft, Procter & Gamble, Samsung and Sony.